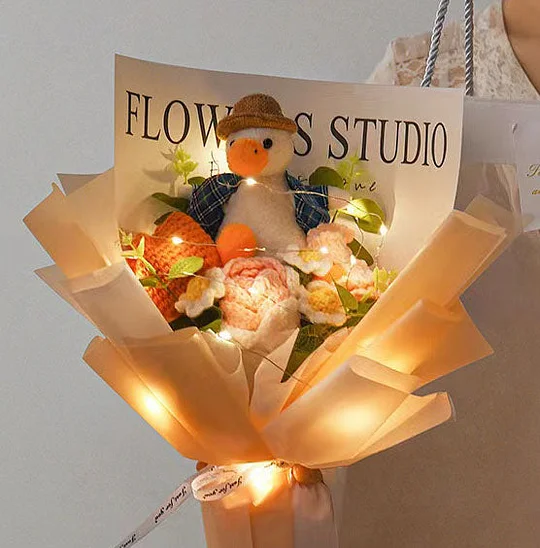 💐Elevate the art of gifting and home decor with our exquisite Crochet Bouquet of Flowers. Each meticulously handcrafted piece is a testament to the delicate 💐💐balance between craftsmanship and creativity.
🌹What are bouquets made of?
Crochet bouquets are all 100% handmade using only the highest quality yarn. Even with long-term use, it maintains its best shape and does not pill like regular yarn.
I hope you enjoy knitting these bright flowers and arranging your displays. Of course, one of the many advantages of knitted flowers is that they don't need to be watered and they won't wilt!
Uses: Gifts, Anniversaries, Back to School, Birthdays, Graduations, Mother's Day, National Girlfriends Day, Proposals, Thank You Gifts, Valentine's Day, Weddings, and more. If you would like to purchase our products for a special occasion, please let us know
notes:
Due to the nature of our creative process, the handmade item you receive may vary slightly from the picture shown in the listing, adding to its unique charm and personality. Due to changes in lighting and screen settings, the color of the item may vary slightly from the image. Also, please allow slight differences in size due to manual measurement differences.
Product Details:
Captivating Variety: This bouquet boasts an assortment of enchanting crochet flowers, each designed to replicate the beauty of nature with intricate detailing.

Timeless Elegance: Unlike real blooms, our crochet flowers never wilt, ensuring your bouquet retains its charm for years to come.

Customizable Delight: Choose your preferred color palette and flower types to curate a bouquet that aligns perfectly with your style and occasion.

Thoughtful Gift: Whether it's a birthday, anniversary, or a gesture of appreciation, our Crochet Bouquet of Flowers conveys sentiment that lasts forever.

Cherished Decor: Add a touch of whimsy to your living space, bedroom, or office with this everlasting bouquet that radiates warmth and creativity.
Crafted with Love:
Our Crochet Bouquet of Flowers is a labor of love, intricately designed by our skilled artisans who pour their heart into each petal. With this unique piece, you're not just getting a decoration; you're embracing an art form that transcends time.
Bring Home Everlasting Beauty:
Evoke joy, elegance, and creativity with our Crochet Bouquet of Flowers. It's more than just a decoration; it's a celebration of craftsmanship, a token of affection, and a reminder of the beauty that can be woven from threads.
Experience the magic of threaded blossoms - order your Crochet Bouquet of Flowers today and let the charm of everlasting blooms grace your life.