A natural cure for neck pain
Screens are such an integral part of modern day life, that an average person spends 5+ hours daily in front of one.
Sadly, this comes at a cost. Is neck strain the price you're willing to pay?
This seemingly mundane sensation comes with long-running health hazards such as joint degeneration, poor blood circulation, dependency on pain relieving pills and potential surgery.
Flexneck Pillow harnesses cervical traction to provide an effective tool to help alleviate neck pain, treat existing jaw soreness and relieve migraines. All that in just 10 minutes a day.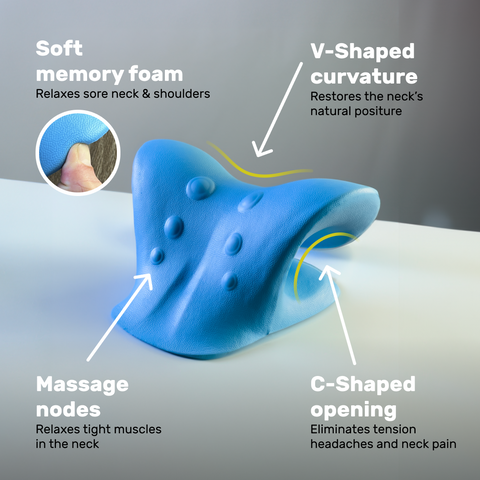 This is a game changer!
If you have been struggling with neck pain, you might have already tried other neck products or treatments and have been frustrated with lack of results. This is though no fault of yours.
Such treatments target only one specific area, ignoring the underlying causes. So you see only brief improvements with no lasting effects.
We took a different approach, funded more than $100.000 in research and spent three years in the lab testing various prototypes to present to you our game changing product.
We combined the benefits of
- Acupressure,
- Sub-occipital muscle stimulation
- Three-dimensional cervical traction
This has been the key to unlocking successful treatment of chronic neck pain.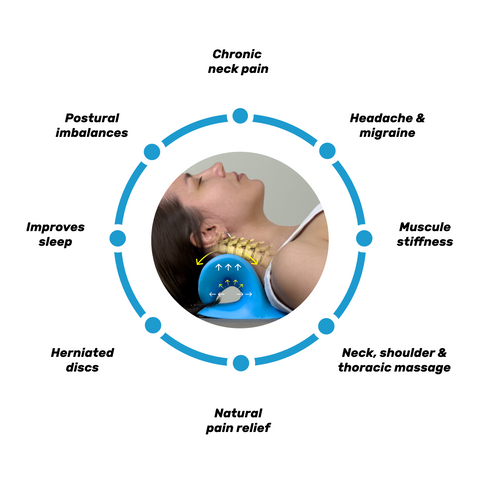 Increased neck pain elimination by 78%
This innovative combination effectively triggers a reset in the deep muscles of the neck, enabling them to return to a state of relaxation.

Subsequently, the three-way system of cervical traction facilitates the opening and relaxation of compressed discs.
By combining these innovative techniques, the deep muscles in the neck can effectively reset and return to a relaxed state.

As a result, the three-way cervical traction system helps
-open up compressed discs,
-alleviate pressure on nerves,
-improve posture, and
-increase the flow of nutrient and oxygen-rich blood to the neck area
The outcome is immediate alleviation from persistent neck pain, TMJ, and headaches, surpassing the effectiveness of the leading competitor by 78%.

Moreover, with regular usage, it can reverse damage and provide enduring relief from neck pain.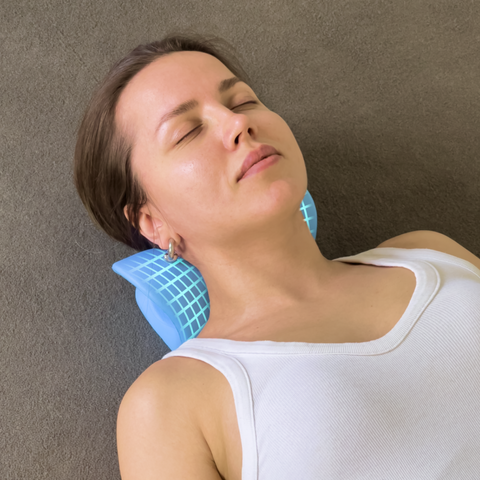 Benefits for Neck Health
- Immediate Pain Relief

Relief from chronic neck pain, TMJ, and tension headaches

Significant improvement in posture

- Enhanced blood circulation, delivering essential nutrients to the neck

- Increased flexibility in the neck and shoulder region.
-Chronic pain decrease and damage reversal

When joints and muscles are tense and strained, the blood circulation is impaired, resulting in damage and healing issues.
Using FlexNeck relieves muscular tension and promotes uninterrupted blood flow to the neck and shoulder area.
This speeds up the recovery process and helps reverse neck region damage. As a result, you experience long-term relief of neck soreness and pain.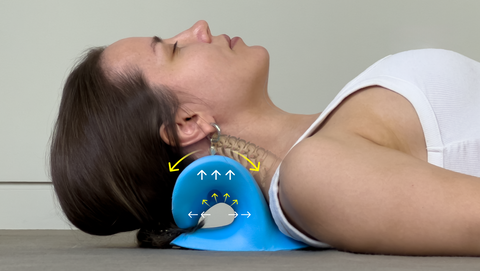 100% perfect stretch any use

The Flexneck pillow is a two part contraption - the convex side allows for a limited amount of tracking and is a great fit for someone with acute neck pain and restricted range of motion.
The concave side provides the deepest stretch angle and is a reat option for more advanced users.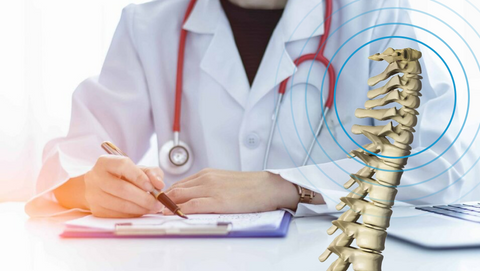 Designed and recommended by professionals
Chiropractors and massage therapists may not always be readily available.

The Flexneck pillow, designed and recommended by chiropractors, offers an efficient solution for pain relief when most needed.

For a fraction of the price of a single therapy session, you can achieve long-lasting results.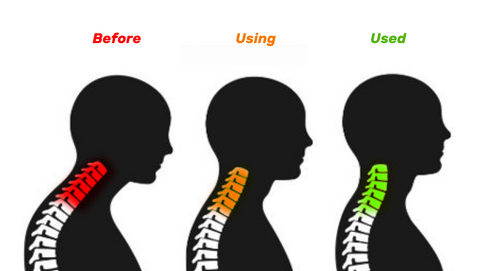 Enjoy quality life

By using the Flexneck pillow, you can improve your quality of life by reducing neck pain, soreness, and other ailments such as TMJ or tension headaches.

In addition to pain relief, using this pillow can also lead to

-Elevated mood
-Improved productivity and focus
-Better posture and increased confidence.
-Pain-free sleep experience