Effortless Outdoor Cooking, The Ultimate Outdoor Cooking Adventure Grill.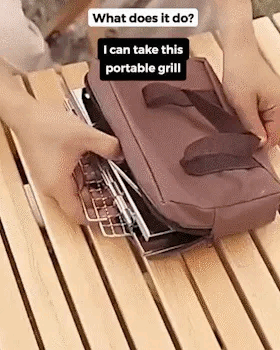 FEATURES:
Compact, lightweight and easy to assemble and fold,this grill set is the perfect companion for camping, hiking, backpacking and other outdoor activities.
Made of high quality stainless steel for durability and performance, it is portable,easy to assemble and fold.

It fits easily into any pocket,so you can take it with you wherever you go. Enjoy delicious, mouth-watering food in thegreat outdoors with ease and convenience.

The grill pan and grill net are perfect foroutdoor grilling, while the stove allows you to cook with twigs, leaves, branches or alcohol,or boil a bottle of water.
Limited to traditional campfire cooking methods,these methods are often time consuming and unpredictable unable to grill their favorite foods while enjoying the outdoors.
Use a portable grill kit to grill anywheredon't let bulky cookware ruin your outdoor experience.
SPECIFICATIONS:
Material: Stainless Steel
Weight: 320g
Size:
PACKAGE: